A newly developed dynamic driver, coupled with an original acoustic design, delivers an ultra-low distortion rate and super-low-frequency sound reproduction. Overwhelming sound granularity and spatial expressivity deliver an emotion-arousing music experience. EAH-TZ700 In-ear Headphones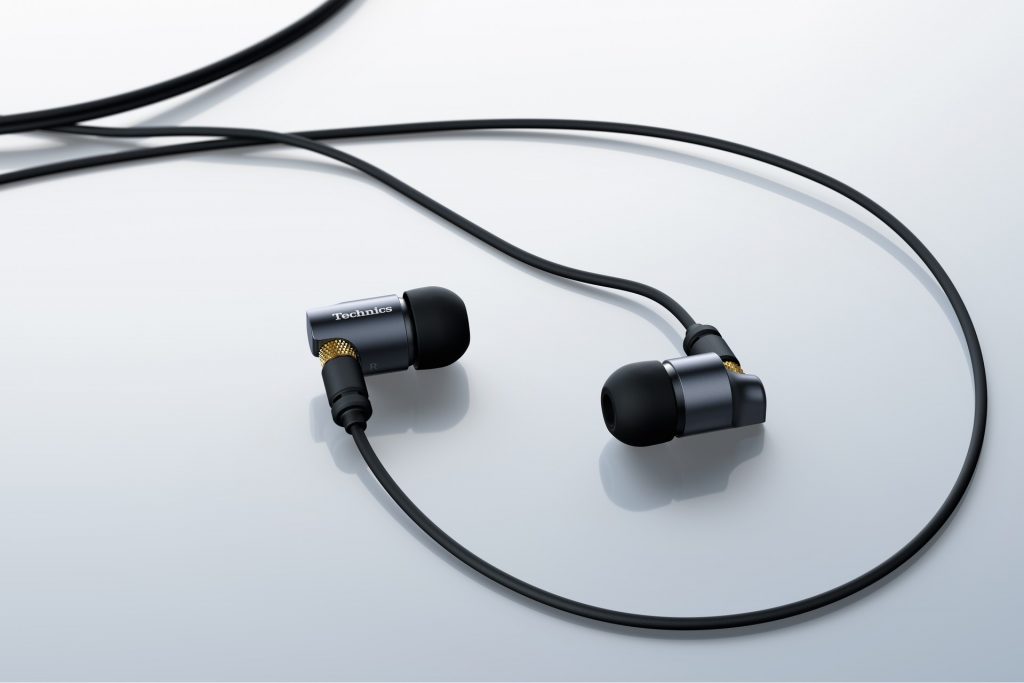 Berlin, Germany, September 6, 2019 – Under the concept of "Rediscover Music," Technics has been seeking and exploring new technological possibilities, with the aim of delivering a music experience beyond anything imaginable.The key to the exceptional sound quality of the EAH-TZ700 is the newly developed 10-mm driver that incorporates advanced magnetic fluid technology, created over many years of exhaustive research and development. The new drive unit features a 'free-edge' diaphragm employing specialised aluminium, similar in shape to that of a conventional loudspeaker driver. To attain wide frequency and precise, deep bass magnetic fluid technology maximises the movement of the drive unit. Behind the drive unit there is an air control chamber which further contributes to bass performance and am advanced sense of space and 'air' to the sound. These elements combine to result in a truly wide bandwidth reproduction from a single driver that is smooth yet highly detailed throughout the full frequency range.

The new driver uses an ultra-thin diaphragm developed exclusively for use in in-ear headphones, which is made of a combination of an original, supple "free-edge" material and a hard metal material. Drawing on its unique characteristics, the magnetic fluid precisely controls the diaphragm to realise flat response characteristics over a wide range of frequencies from ultra-low to high. Furthermore, the housing features a coaxial design construction made of a combination of titanium and magnesium to make the most of the driver's performance. The EAH-TZ700's single-unit driver reproduces deeply enveloping, energy-rich bass and distortion-free, unconstrained high-frequency sound of 100 kHz to achieve overwhelming sound space expression.

The user's demand for a greater music listening experience is growing, revitalising the headphones market. In response, in the fall of 2019 Technics launches the EAH-TZ700 in-ear headphones created through the relentless pursuit of ideal sound.
An Originally Developed Precision Motion Technology for Attaining Remarkable Purity of Sound
A newly developed free-edge driver featuring an original diaphragm and magnetic fluid technology
The newly developed 10-mm driver uses a 5-micron-thick diaphragm made of a combination of a high-strength, special aluminium material that suppresses unwanted vibration and a supple free-edge material. The special aluminium material contributes to improved high-frequency sound reproduction, while the free-edge material lowers the lowest resonance frequency to achieve outstanding low-frequency sound reproduction. Furthermore, magnetic fluid is used in the voice coil section to maximise its characteristics to ensure high stroke accuracy of the supple-edge diaphragm and to provide a high damping effect, which were previously difficult to achieve. The result is the reproduction of sound over a wide frequency range with ultra-low distortion.
Super-wide and flat sound tuning (Air Control Precision Structure)
The coaxial design cylinder-type housing of the EAH-TZ700 maximises the potential of the driver. The proprietary Air Control Chamber inside the unit precisely controls the internal airflow and optimises the balance among frequency bandwidths. As a result, sound resolution improves and stunning sound space is created.
Materials and Design Are Carefully Selected for Achieving High Sound Quality and Strength
A housing design featuring different metal materials
The original housing construction features a combination of different metal materials for the purpose of improving both sound quality and strength. The port housing section where sound exits is made of lightweight high-strength titanium, which is a material used in aircraft and precision devices. It holds the driver rigidly and suppresses unwanted vibration. The main housing body is made of magnesium diecast that boasts excellent vibration damping characteristics. The 3D shape ensures the most suitable angle of insertion in the ear and provides an optimal fit to provide exceptional comfort when worn.
Dedicated cables and ear pieces designed in pursuit of ideal audio quality
The EAH-TZ700 comes with two types of cables: balanced and unbalanced. Balanced outputs have become increasingly prevalent with high resolution personal players. To accommodate this, the EAH-T700 has the inclusion of a 2.5mm jack balanced cable suitable for this type of application. The general-purpose MMCX connector used for the connection to the headphones provides extra versatility for the user to choose alternative specialist cables. The ear pieces are important parts that also affect the sound quality. In addition to the normal type and round type, oval-shape ear pieces with excellent sound insulation are provided. What's more, each ear piece type comes in four different sizes so that every user can enjoy a high-quality music experience with optimal comfort.
Technics' Design Philosophy Aimed at Fusing Tradition and Advanced Technologies
Design achieving both quality and functionality
The EAH-TZ700's compact magnesium housing features a graphite black finish, which is a Technics hallmark. The MMCX connector terminal on the main unit is knurled and gold-plated. Technics designs every part without any compromise in quality, as if creating high-quality jewelry.